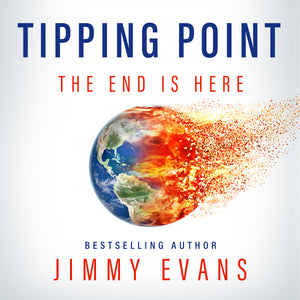 Tipping Point: The End is Here Audiobook - Narrated by Jimmy Evans
AUDIOBOOK DOWNLOAD INSTRUCTIONS
For the best experience and mobile access, download the audiobook first to your desktop computer and add the file to your desired application. For further instructions, please visit our Digital Download FAQ page
Tipping Point: The End is Here
In this eye-opening book, Jimmy Evans examines biblical prophecies about the end times and points to their unmistakable parallels with today's world. With a clear, insightful analysis of Scripture, he answers many common questions, such as:

Are we living in the end times?
How should Believers respond to increasing immorality?
Will Christians go through the Tribulation?
What role does Israel play in God's prophetic plan?
Are COVID-19 and other world events announcing the imminent return of Jesus?
Ultimately, Tipping Point will help you understand current events with confidence. There is no going back, but hope and peace are possible as God's plan unfolds, and we approach the end of the age.
Customer Reviews
Write a Review
Ask a Question
12/10/2020
Richard A.

United States
Gre a t title
My overall experenice was great , highlighted & underlined! What do you say to other belivers who say this only started by darby 100 years ago, also do you support that baptism by the Holy Spirit is speaking in other tonques, but the bible always says lanquages not tonques and they were always known words in other cultures, not some pagn babble, that was happening back then in other religions! Thank you for any input and further information your brother in Christ always !