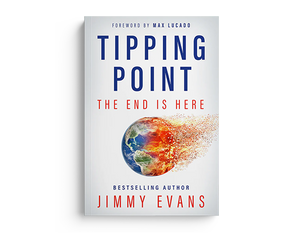 Tipping Point: The End is Here
We are living in tumultuous times. From corrupt world politics to global pandemics to an unprecedented rebellion against God and His word, humanity has reached a critical stage. 

In this eye-opening book, Jimmy Evans examines biblical prophecies about the end times and points to their unmistakable parallels with today's world. With a clear, insightful analysis of Scripture, he answers many common questions, such as:
Are we living in the end times?
How should Believers respond to increasing immorality?
Will Christians go through the Tribulation?
What role does Israel play in God's prophetic plan?
Are COVID-19 and other world events announcing the imminent return of Jesus?
Ultimately, Tipping Point will help you understand current events with confidence. There is no going back, but hope and peace are possible as God's plan unfolds, and we approach the end of the age.