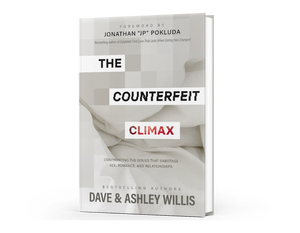 Regular price
$13.19
Sale price
$21.99
Experience life, sex, and marriage with a freedom you never thought was possible.
Regrets, lies, betrayals, and insecurities are often difficult to talk about and heal from, especially when they become unwanted or even undiscovered baggage in our relationships.
The Counterfeit Climax dives into the complexities of one of the most important topics in relationships. In some ways, the act of talking about sex can feel more intimate and vulnerable than the act of having sex. Dave and Ashley's trusted advice, compassion, and own transparent stories will help you cut through all the lies so you can navigate through the complicated messages of today's world in terms of sex and relationships.