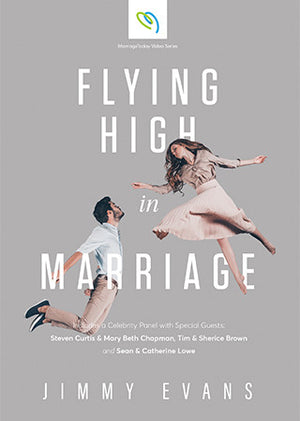 Flying High in Marriage Video Series
Includes a Celebrity Panel with Special Guests:
Steven Curtis and Mary Beth Chapman
(Award-Winning Contemporary Christian Artist)
Tim and Sherice Brown
(NFL Hall of Fame Wide Receiver)
Sean and Catherine Lowe
(Stars of The Bachelor)
For many couples, they fall in love and are optimistic about their future. After years of marriage, they begin to take each other for granted. Without realizing what is happening, they begin to believe marriage was a mistake. In this inspiring series, you'll discover why you fell in love, how to heal from the emotional scars of life and what keeps your relationship growing and thriving. Marriage can get better year after year. You and your spouse can fly high in marriage.
Flying High in Marriage is available on digital download.
Session 1 - Flying High in Marriage (39 minutes)
Session 2 - The Seven Elements of Emotional Healing and Health (40 minutes)

Session 3 - God's Laws of Love (24 minutes)
Session 4 - Dream Givers (28 minutes)
Bonus Session - A Cord of Three Strands Celebrity Panel (42 minutes)
Customer Reviews
Write a Review
Ask a Question
11/01/2021
Richard T.

United States
It's great
A lot of great insights
09/10/2020
Steven R.

United States
Flying High in Marriage
Wonderful, with all the Covid restrictions we have been able to get couples the videos to watch then have zoom discussions. Even talked with a leader today that had a military couple join the zoom meeting, together but separately. We love this and plan to use it for years to come with couples Thank you. This series will help so many