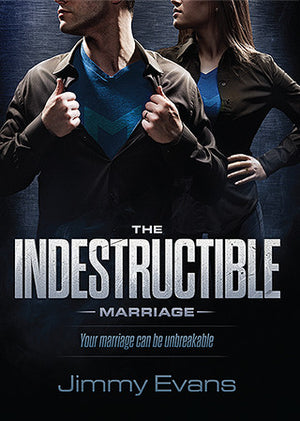 The Indestructible Marriage Video Series
Unbreakable… permanent… enduring… Do these words describe your relationship? They can. You and your spouse have the ability to safeguard your marriage and abound in joy, intimacy, security, and pleasure.
The Indestructible Marriage will show you that no matter the quality of your relationship today, you can have a lasting and thriving marriage. In this life-changing series, Jimmy Evans will reveal:
The most fulfilling roles of husbands and wives

How to overcome communication barriers
The different kinds of love and why only one will last
The secret of being romantic in your spouse's language
How to divorce-proof and affair-proof your marriage
So many people are losing confidence in the institution of marriage and it's having a catastrophic effect on society. The good news is that marriage still works when you follow the right plan. The Indestructible Marriage will help you turn the tide and revolutionize your relationship.
The Indestructible Marriage is available on Audio and Video digital download.
Session 1 - God's Indestructible Plan for Marriage (41 minutes)
Session 2 - Indestructible Communication (40 minutes)
Session 3 - Indestructible Love (40 minutes)
Session 4 - Real Sexual Intimacy and Fulfillment (41 minutes)
Session 5 - Rust-Proofing Your Marriage (32 minutes)
Session 6 - Divorce-Proofing Your Marriage (36 minutes)
Session 7 - Affair-Proofing Your Marriage Part 1 (38 minutes)
Session 8 - Affair-Proofing Your Marriage Part 2 (32 minutes)