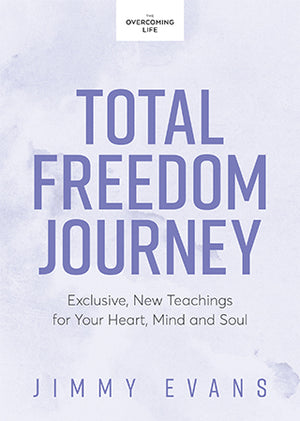 Total Freedom Journey Video Series
We are all born in bondage. Every person battles fear and toxic thoughts. We all carry unresolved pain from our past. Life was intended to be so much more. In these powerful messages, Jimmy Evans will help you understand the root cause of the inner struggles you experience every day. You'll learn how to overcome discouragement, addiction, anger, and unforgiveness. Break the chains and experience total freedom in every area of your life.
Total Freedom Journey is available on digital download.
Session 1 - The Promise of Total Freedom (23 minutes)
Session 2 - Overcoming Discouragement and Depression (23 minutes)
Session 3 - The Sound of Freedom (23 minutes)
Session 4 - Freedom from the Pain of Our Past (23 minutes)
Customer Reviews
Write a Review
Ask a Question
01/10/2021
Anonymous

United States
Sheds light
The 21 day journey helped explain many aspects of my life. To me it is a tool that I would go back to plus I want to pass on to others as the Lord opens the way. Amen and thank you.