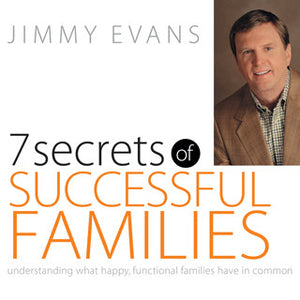 7 Secrets of Successful Families Audio Series
With the moral decay of our society undermining and destroying families at an unprecedented rate, many people wonder if the success of the traditional family unit is possible. In this series, Jimmy Evans not only shows you that it is, but he also spells out in easy-to-understand language how all of us, regardless of our personalities or backgrounds, can build healthy, successful families.
7 Secrets of Successful Families reveals the traits that functional families have in common, as well as how you can reverse and overcome those influences that cause dysfunction in your family life.
Session 1 - A Biblical Priority Structure (39 minutes)
Session 2 - A Balance of Truth and Love (45 minutes)
Session 3 - Healthy Dependency (45 minutes)
Session 4 - Positive Communication and Conflict Resolution (66 minutes)
Session 5 - Proper Parental Authority (30 minutes)
Session 6 - The Attitude of Personal Responsibility (39 minutes)
Session 7 - True and Lasting Financial Prosperity (51 minutes)
Customer Reviews
Write a Review
Ask a Question
01/19/2021
Anonymous

United States
Much needed in Today's world
Raising children in Today's evil world is a task that needs wisdom and insight. Jimmy's teaching on how to protect your children today is invaluable. Highly recommended