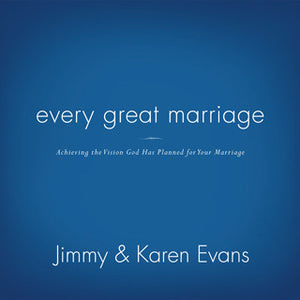 Every Great Marriage Audio Series
Life is fast and hectic and we all wonder where the time goes, but in the middle of life's busyness, we still have to make time to deal with family and marriage issues. The danger of our lifestyle is that sometimes what's important gets overshadowed by the urgency of the moment. Our marriage often suffers in the process. But what is a great marriage and how can a couple have one?
In this teaching Jimmy Evans defines the roles of a husband and a wife and targets areas of weakness that could undermine the satisfaction and success of your marriage. He outlines the seven traits of every great marriage and demonstrates how you can build them into your own marriage relationship. Remember, great marriages do not happen by accident and they are not a matter of chemistry or luck they are the result of intentional living.
Every Great Marriage is available on digital download.
CD ONE
Session 1 - Every Great Husband (37 minutes)
Session 2 - Every Great Wife (39 minutes)

CD TWO
Session 3 - The Seven Traits of Every Great Marriage - Part 1 (28 minutes)
Session 4 - The Seven Traits of Every Great Marriage - Part 2 (29 minutes)
CD THREE
Session 5 - The Seven Traits of Every Great Marriage - Part 3 (30 minutes)
Bonus Session - The Mountaintop of Marriage (29 minutes)
Customer Reviews
Write a Review
Ask a Question
01/07/2022
Anonymous

United States
Marriage motivation
I especially like the 1st CD. The explanation of husband and wife and how we affect each other was fabulous.