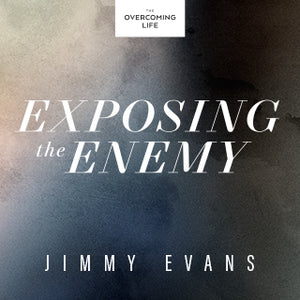 Exposing the Enemy Audio Series
Satan is real and whether you realize it or not, he's actively plotting to destroy your life. In this power-packed series, Jimmy Evans will expose the devil's nature so you can easily recognize how he works. You'll learn about the authority you have in Christ and what to do when you're under attack. God has equipped you with everything you need to be victorious. Overcome the enemy and accomplish His purpose for your life.
Exposing the Enemy is available on digital download.
Session 1 - Exposing Lucifer (28 minutes)
Session 2 - Exposing Satan (33 minutes)

Session 3 - Exposing the Devil (32 minutes)
Session 4 - Exposing the Anti-Christ (31 minutes)

Session 5 - Exposing the Roaring Lion (32 minutes)
Customer Reviews
Write a Review
Ask a Question