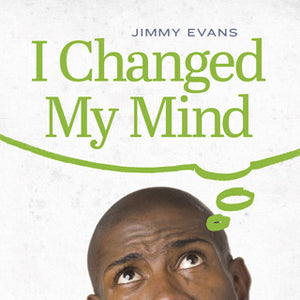 I Changed My Mind Audio Series
Every one of us experiences worry, insecurity, fear and failure. Many people live their lives being controlled by their destructive emotions. You can overcome your thoughts and live a life of freedom and peace.
Through Jimmy Evans' practical series I Changed My Mind, you will discover:
How to always have a positive attitude
The proven steps to experiencing success
How to overcome worry and anxiety
The secret to becoming secure
How to eliminate fear and find fulfillment
Happiness is a choice within your control. Today you can change your mind and experience breakthrough in every area of your life.
I Changed My Mind is available on digital download.

Session 1 - I Changed My Mind About My Attitude (33 minutes)
Session 2 - I Changed My Mind About Failure and Success (37 minutes)
Session 3 - I Changed My Mind About Worry and Anxiety (19 minutes)
Session 4 - I Changed My Mind About Insecurity (34 minutes)
Session 5 - I Changed My Mind About Fear (29 minutes)
Bonus Session - Overcoming Insecurity with Karen Evans (13 minutes)