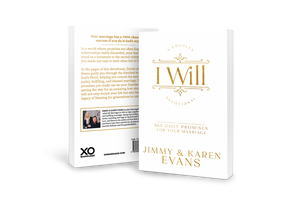 I Will: 365 Daily Promises for Your Marriage
Regular price
$20.00
Sale price
$24.99
A Timeless Couples Devotional!
In a world where promises are often forgotten and relationships easily discarded, your marriage can stand as a testament to the sacred commitment you made not only to each other but to God.
In the pages of this devotional, Jimmy and Karen Evans guide you through the timeless truths of God's Word, helping you unlock the secret to a joyful, fulfilling, and blessed marriage. The promises you made can be your foundation, paving the way for an enduring love story that will both enrich your life become a legacy of blessing for generations to come.