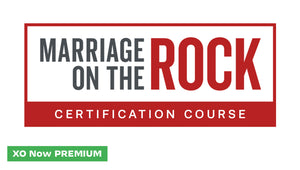 Marriage on the Rock Certification
Powerful, proven, online training to equip pastors and leaders to help couples succeed in a thriving and passionate marriage. Join Jimmy Evans as he personally guides you through the essential principles to build and restore marriages in your church and community.
For over twenty-five years, Marriage on the Rock has been the gold standard resource that clearly deals with the major issues couples encounter. From communication to money to sex, leading marriage authority Jimmy Evans discusses practical, real-life challenges and offers easy to understand solutions.
The Marriage on the Rock Certification Course is perfect for anyone who has a heart for helping couples succeed in marriage.
Through the Marriage on the Rock Certification Course, you'll receive:

Comprehensive video training on the entire Marriage on the Rock curriculum
Downloadable comprehensive notes with each session
Topical Q&A from Jimmy Evans on the most critical issues
Steps to successful pre-marital and marital counseling using Marriage on the Rock
Guidance for facilitating Marriage on the Rock in small groups, classes, and seminars
*A physical certification certificate is not provided upon completion of the course.
Customer Reviews
Write a Review
Ask a Question