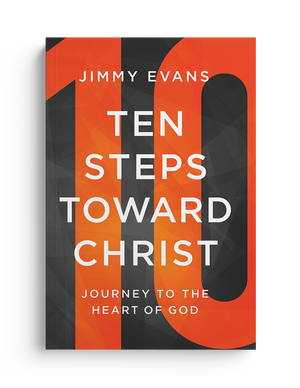 Ten Steps Toward Christ Book
The Apostle Paul encourages believers to live as "new creations". Unfortunately, many Christians never learn how to shed their old identities as sinners. In this timely and practical new book, Pastor Jimmy Evans shares ten transforming steps to overcome the old habits, mindsets, and trials every believer faces in order to rely on God. From the opening chapter, readers will be challenged to examine each piece of their lives in order to begin living as a new creation and follower of Christ.

If you have decided to follow Jesus, then Ten Steps Toward Christ is a necessary read. You will be equipped with Scriptural methods for intimate prayer, hearing God's voice, and building friendships that will ensure success in your new life as a new creation.
Chapters in this 199-page paperback edition include:

Being Born Again
Covenant of Water Baptism and Communion
Baptism in the Holy Spirit
Christian Fellowship
Knowing God Through His Word
A Dynamic, Daily Prayer Life

And much more!