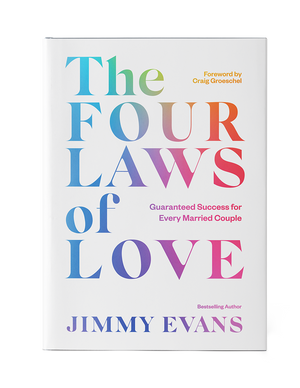 The Four Laws of Love: Guaranteed Success for Every Married Couple
The Four Laws of Love represents the culmination of Jimmy Evans' influential career. In this deeply personal book, Jimmy Evans outlines the foundational pillars upon which God designed marriage. Without holding back, he tells the story of his own marriage, which was hurtling toward divorce until this self-proclaimed "bad husband" came to recognize and put into practice these four laws.
This book sounds a wake-up call for every kind of marriage. Including those that are barely surviving and those that seem to operate on autopilot. Couples who follow these simple guidelines―recognizing the original intent and purpose of marriage―will inject new life into their unions. They'll see hurting marriages find healing and watch good marriages become great. Each revitalized relationship will play a part in restoring marriage to its sacred role at the center of human civilization.
  
EBOOK DOWNLOAD INSTRUCTIONS
For the best experience and mobile access, download the ebook first to your desktop computer and add the file to your desired application.