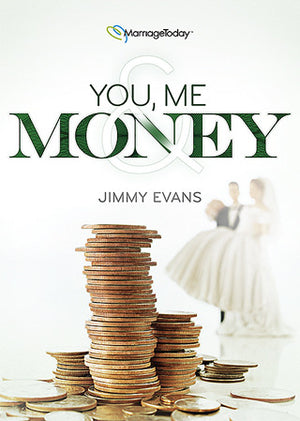 You, Me and Money Video Series
Jimmy and Karen Evans have created this powerful resource with couples of all backgrounds in mind. No matter how long you've been married, no matter how successful or unsuccessful you feel you've been financially, this revealing teaching can have a dynamic impact on your thoughts about money and your marriage.
It's no secret that money problems are the number one divider of couples and the biggest source of friction leading to conflict. But in God's economy, money has great potential to hold marriages together and build lasting intimacy.
In this teaching series, Jimmy Evans unpacks Biblical principles for building generational wealth and digs deeper into spiritual laws for financial blessing.
You, Me and Money is available on DVD, CD and digital download.
Session 1 - God's Laws for Financial Blessing (46 minutes)
Session 2 - Reversing the Financial Curse (53 minutes)
Session 3 - Building Financial Intimacy and Partnership (39 minutes)
Bonus Session - Profound Financial Security (34 minutes)