The Not-So-Secret Guide to In-Law Relationships
With a little bit of understanding and a whole lot of patience, you can grow in love, even for the in-laws you didn't (exactly) choose.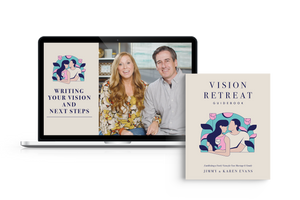 With this bundle, you'll receive one copy of the bestselling Vision Retreat Guidebook by Jimmy Evans and access to the...
Learn more
Fighting for the Soul of Your Child
With practical, how-to wisdom, Jimmy and Karen Evans join their daughter, Julie Evans Albracht, to explore what every parent needs to know to raise godly kids in an ungodly world.
PREORDER NOW
MARRIED INTO THE FAMILY: THE NOT-SO-SECRET GUIDE TO IN-LAW RELATIONSHIPS
The in-law crisis is real. The entertainment industry makes comedies about it, but real people are hurting. Dave and Ashley Willis want you to know there is hope. 
PREORDER NOW